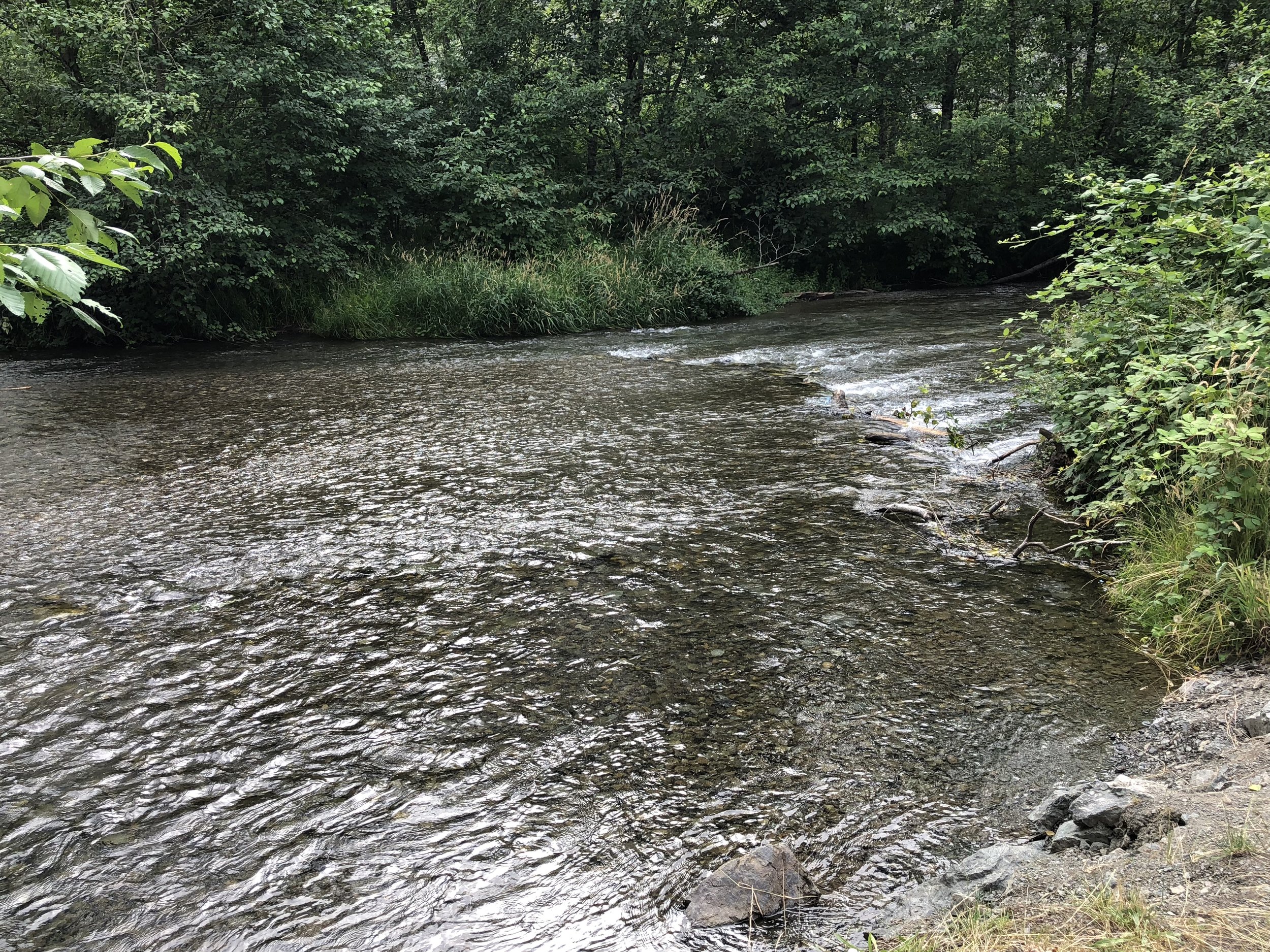 looking for a beautiful getaway?
Sweltzer Creek Campground is the perfect escape
from the chaotic demands of the city.
Sweltzer Creek Campground is a hidden gem that is only minutes away from Cultus Lake. Come experience our beautiful campsites in an outdoor family atmosphere.
The campsite is nestled between its namesake, the Sweltzer Creek and the Chilliwack River. This beautiful and natural hideaway that is sheltered by large, old Cedar Trees. The Sweltzer Creek flows next to the campground providing creekside camping sites.
Sweltzer Creek Campground first began operations in the summers of 1987, 1988 and 1989 as a weekend facility, but now operates everyday throughout May and September in the summer season. It was constructed by the Soowahlie First Nation on their reserve, and is proudly owned and operated by the Band and its members.
RESERVATIONS
https://www.bookyoursite.com/sweltzercreek%20/availability
(604) 824-4023
Please be aware:
August Long weekend is fully booked already!!!
All electrical sites are booked for all weekends throughout the summer too.
To Reserve there will be a $10 Reservation fee for each of the Sites that you reserve (cost of site is separate & expected on day of arrival)
SECURITY
(604) 793-8553
CHECK-IN: 1-10PM
CHECK-OUT: BEFORE NOON
Location
4745 Sleepy Hollow Road
Cultus Lake, BC, CANADA
V2R 4Y2
SEASON
May through September (labour day weekend)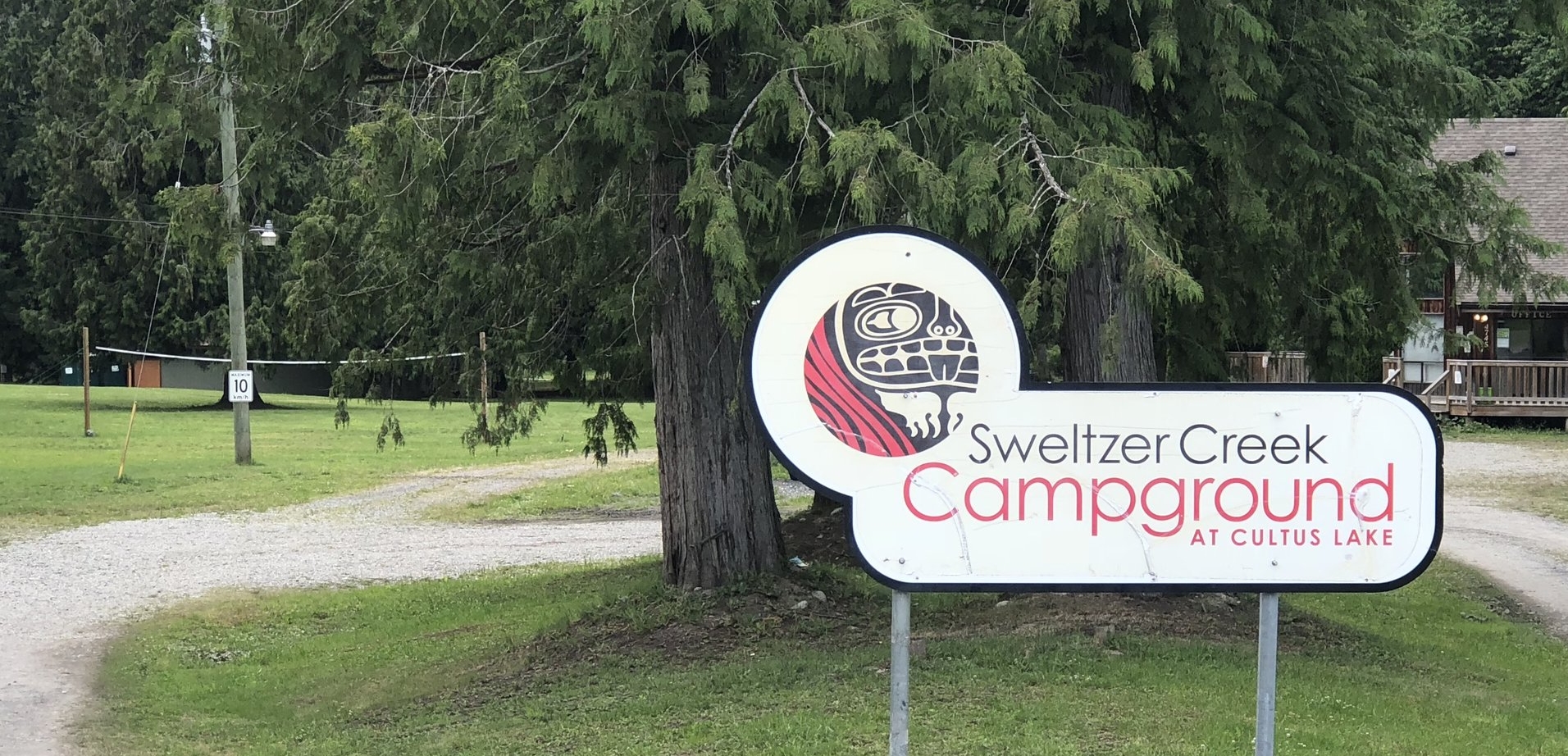 Playground, picnic tables, washrooms and more.
Sweltzer Creek Campground is family oriented with plenty of room for your children to run and play. A playground is located on the grassy area. Campers may also play recreational games in this area that includes a volleyball area & horseshoe pits.
The washrooms have showers that are free, electric hand dryers and toilet stalls with a wheelchair accessible stall.
Relax and rest in a calm and peaceful environment while you enjoy our spacious sites beside the Sweltzer Creek & Vedder River, all built with the family in mind. You will want to come back again and again!
Ammenities
• Tent sites
• Playground
• Fully-equipped washrooms
• Gazebo
• Creekside sites available
An endless array of entertainment, only five minutes away.
Cultus Lake Water Park and various other attractions such as Cultus Lake Adventure Park, Harrison Hot Springs, and the Abbotsford Air Show draw people to the area in ever-increasing numbers..
The closet attraction, however, is Cultus Lake Provincial Park, which is five minutes away from the campground. It features a variety of recreational activities and services, including:
Attractions
Cultus Lake Adventure Park
993 Sunnyside Blvd
Cultus Lake BC
Telephone: (604) 858-8777
www.giggleridge.com
Cultus Lake Golf Club
4000 Columbia Valley Highway
Cultus Lake BC V2R 5H6
Telephone: (604) 858-9902
Toll Free: (877) 858-FORE (3673)
www.golfcultus.com
Cultus Lake Waterpark
4150 Columbia Valley Highway
Cultus Lake BC
Telephone: (604) 858-7241
www.cultus.com
Dinotown
4121 Columbia Valley Highway
Cultus Lake BC V2R 5H6
Telephone: (604) 408-8448
dinotown.co
Sniper'z Outdoor Paintball Adventures
46191 Chilliwack Lake Road,
Chilliwack, BC V2R 4M8
Telephone: (604)792-8799
Tap-Ins Putting Course
4000 Columbia Valley Hwy.
Cultus Lake BC V2R 5H6
Telephone: (604) 858-PUTT (7888)
www.tapins.homestead.com
Restaurants
Cafe Vanilla
#8-4125 Columbia Valley Highway
Cultus Lake, B.C. V2R 5B7
Telephone: (604) 858-6241
Cultus Cafe
#6-4125 Columbia Valley Highway
Cultus Lake, B.C. V2R 5B7
Telephone: (604) 846-1120
Frosty's Icecream
4121 Columbia Valley Highway
Cultus Lake, B.C.
(604) 791.8673
J.Beethovens Pizza
#9-4125 Columbia Valley Highway
Cultus Lake, B.C. V2R 5B5
Telephone: (604) 858-7766
www.jbeethovenspizza.com
Lakeside Beach Club
4131 Columbia Valley Highway
Cultus Lake, B.C. V2R 5B7
Telephone: (604) 858-3393
Legends Bistro
4000 Columbia Valley Highway
Cultus Lake, B.C. V2R 5H6
Telephone: (604) 858-9902
www.golfcultus.com/legends-bistro.html
New York Corned Beef Connection
#7-4125 Columbia Valley Highway
Cultus Lake, B.C. V2R 5B7
Telephone: ((604) 858-5104
Sora Sushi & Teriyaki
#5-4125 Columbia Valley Highway
Cultus Lake B.C. V2R 5B7
Telephone: (604) 847-9121
Groceries
Cultus Lake Market
3776 Columbia Valley Rd
Cultus Lake, BC
(604) 824-0067
Cultus Lake Superette Grocery Store
#1-4125 Columbia Valley Rd
Cultus Lake, BC
(604) 858-6410
Sunnyside Convenience Store
3401 Columbia Valley Highway
Cultus Lake, B
Telephone: (604) 858-8184
Services
Beach Buoy Leisure Rentals Boat & Jet Ski Rentals
50 Sunnyside Blvd.
Cultus Lake BC V2R 4Z5
Telephone: (604) 858-9990
cultuslakeboatrentals.com
Main Beach Boat Rentals
Main Beach, Cultus Lake BC
Telephone: (604) 858-BOAT(2628)
Cultus Lake Esso
4161 Columbia Valley Highway
Cultus Lake BC V2R 5B5
Telephone: (604) 858-9015
Cultus Lake Post Office
3-4125 Columbia Valley Hwy.
Cultus Lake BC V2R 4Z6
Telephone: (604) 858-5510
Sweltzer Creek Campground
4745 Sleepy Hollow Road
Cultus Lake, BC, CANADA
V2R 4Y2
Reservations:
604 824 4023
604 793 8553